The risk of a cyberbreach is now a growing concern for many organizations today. According to Cybersecurity Ventures, cybercrime will have cost the world six trillion ($6T) by the start of 2021, with the global investment to stop evolving cyber threats exceeding one trillion ($1T). Those numbers are staggering. Unfortunately, the vast majority of organization, especially those without security teams, remain woefully underprepared.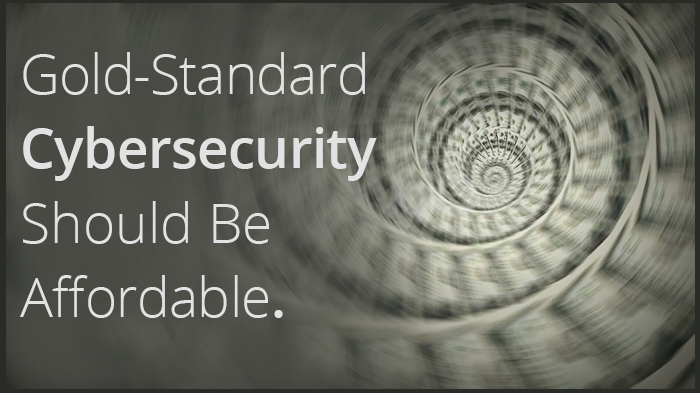 Getting More Protection With Less
Most organizations that rely on standard data security solutions, like firewalls and antivirus, know that they need more comprehensive security. Their cybersecurity posture may not address all the possible entry points and attack vectors that today's more sophisticated cyberattacks use. In fact, according to a recent PAS Global survey, 85% of businesses aren't prepared for an Operations Technology (OT) attack which includes the many possible ways that hackers can breach a company through core infrastructure and services.
Most companies don't have the internal expertise to analyze and identify data security vulnerabilities across their entire organization, let alone develop and implement an ongoing program to protect, detect, alert, and mitigate possible intrusions. Even if a company wants to commit to building out a comprehensive cybersecurity program, it can take considerable time and expense to implement more robust security technology with in-house skilled security professionals to manage it around the clock.
This issue can become so daunting, competing with other mission-critical business issues, that it keeps getting pushed off until the day that a cyberattack occurs and it's too late to take a proactive approach.
"Small and medium sized businesses lack the financial resources and skill set to combat the emerging cyber threat," says Scott E. Augenbaum, former supervisory special agent at the FBI's Cyber Division, Cyber Crime Fraud Unit, where he was responsible for managing the FBI's Cyber Task Force Program and Intellectual Property Rights Program.
You Can't Just Sweep Cybersecurity Concerns Under the Rug
Did you see that in the United States, the average cost of a data breach is $8.64 million? Avoiding the work and investments needed to understand potential cybersecurity vulnerabilities isn't an option. In fact, the Small Business Administration (SBA) is is urging the over 30.2 million businesses in America with 500 or less employees to adopt a comprehensive mix of both high and low-tech strategies for combating cyber threats.
The risk of a cyber breach isn't going away. Bad actors are out there eyeing your company's technology resources for weaknesses and forming sophisticated approaches to breach your network. Therefore, you can't afford not to be vigilant.
The Two Approaches to Maximizing Cybersecurity
There are two approaches you can take to building and maintaining a comprehensive cybersecurity program that will better protect against evolving cyber threats. The first is to invest heavily in internal resources: Hire a Chief Information Security Officer (CISO) and multiple IT security professionals to acquire, implement, and manage robust IT security technologies and processes. Then you will have a stack of best-of-breed (often complex) cybersecurity tools, with the expertise needed to manage them 24/7.
The alternative approach combines best-of-breed cybersecurity protection into a single solution with visibility into your overall cybersecurity posture. This allows current staff to easily understand, easily manage, and easily act on any potential threats.
Organizations with limited security staff can have the same comprehensive cybersecurity as larger organizations, only without the heavy investment or the long-term management headaches. Defendify does this by offering multiple cybersecurity tools within one easy-to-use, all-in-one platform designed to continuously strengthen cybersecurity across three critical areas: people, process, and technology. Defendify works around the clock, automating many manual processes, and is backed by a team of cybersecurity experts who not only identify and contain cyberattacks 24/7, but provide your existing team with reports and guidance on where and how to improve overall cybersecurity health.
Rest Easy: Comprehensive Cybersecurity Is Within Reach
With Defendify, you won't need to hire seasoned security experts, learn multiple complicated systems, or even have to take your eye off what's most important: growing your business. You can rest easy knowing that your organization is being kept safe by a comprehensive cybersecurity platform that protects, detects, educates and eliminates cyberattacks happening right now and in the future.
More Resources For Building Protection with Less Overhead: