In an ever-changing cyber-threat landscape, organizations must go beyond traditional technology solutions, like antivirus and firewall, to consistently monitor, report, detect, and respond to sophisticated cyberattacks.
Test the strength of existing cybersecurity technology
The following questions allow you to quickly check if your organization is protected by robust cybersecurity technology that can stand up to evolving threats:
Does your organization regularly monitor employee passwords to find out if they have been stolen, sold, or published on the Dark Web?
Is your organization's public-facing websites routinely monitored for adware, malware, blacklisting, and other vulnerabilities?
Is your company's network, and devices routinely scanned to find potential weaknesses and vulnerabilities?
Does your organization have the ability to actively monitor and immediately respond to cybercriminal activity 24 hours a day?
The same sophisticated cyberattacks that target large enterprise organizations are also targeting small and midsized organizations. Unlike large enterprises, most organizations lack an in-house security team to manage complex cybersecurity tools around the clock - but that doesn't mean they can't have enterprise-grade protection.
Tools for cyber-strong technology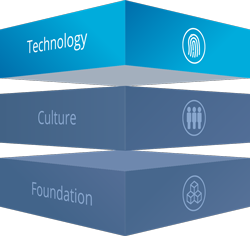 By consolidating multiple best-of-breed cybersecurity tools into a single platform, Defendify automates critical functions to help organizations manage a 24/7 comprehensive cybersecurity program without complexity. Among the multiple modules within the Defendify platform, the Technology Layer modules include:
Next steps for a stronger cybersecurity program
Ensuring a consistently robust cybersecurity posture does not have to be complicated, expensive, or require a team of in-house security professionals. Check out the resources below to learn how to more easily add strength to your cybersecurity technology: